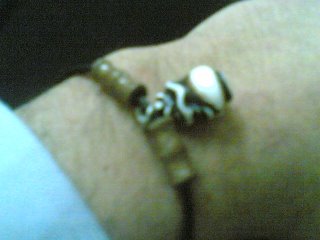 Dear Ra'afat,
I know you won't receive this letter, but I'm writing it to you anyway.
I know it's been almost 3 months since you've gone, but your memory just cannot fade away, I almost cry every night for your loss, It's really hard for me to imagine the world without you living in it.
Do you remember the night when we bought these, I'm keeping it close to my heart, well of course you remember, at that night we both knew that seeing each other would not be easy anymore, everyone of us has to take care of his business, and the business that both of us were in was ended, I remember your words that night, you told me that we should keep them as a memory of each other, in case we did not see each other again.
Do you remember the last night you were in my house, you came to me that night, and slept in my house, we spoke a lot that night, we spoke about a lot of personal stuff, I guess you still remember all of them. At that night, you kept listening to the song Hello, you've listened to it over and over again. Now every time I hear it, the tears just start to wash my eyes, I can't hear it anymore.
Why?
Why did you have to go? Why did you have to leave the world like this? What was the reason for your death? Is it because some moron wanted to kill people? Is it because you had to go to work that day? Is it because you needed money so much? Just why? Nobody gave me a good reason for it.
I still remember the moment when I heard the news, I remember I was in the street that moment, when Baha called me, and told me that you were gone, my legs could not hold me anymore, I remember that I fell in the street, with tears flooding of my eyes, I didn't know what to do next, how I'm going to live, I still cannot figure the answer, I've tried to do a lot of things, but believe me, I'm still having troubles living, just who is going to wash my tears away …
And now the tears are still in my eyes, and nobody is going to wash them while you're not here.
The other day Baha told me that we were a lot alike, we both don't talk much, but when we are together we don't stop talking.
I guess you still remember the song (be 3'orfeh z3'eereh), which both of us used to like it so much, I still listen to it, and I still love it, but after you're gone, the words have a stronger meaning to me, as for me, it talks about you and me.
You are a martyr, and what difference that makes to me, for me it's still that I lost you, it's still that I wont see you again.
May your soul rest in peace,
Your Friend Forever,
Ala'a.