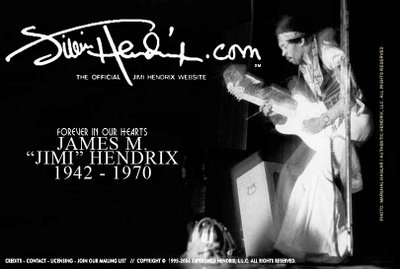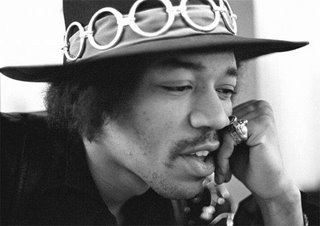 Today Marks the 36th Anniversary for the passing of one of the most creative and influential musicians of the 20th century.
In the early morning hours of September 18, 1970, Jimi Hendrix was found dead in the basement flat of the Samarkand Hotel at 22 Lansdowne Crescent in London. Hendrix died amid circumstances which have never been fully explained, and the exact details of his death will probably never be confirmed. He had spent the night with his German girlfriend, Monika Dannemann, and likely died in bed after drinking wine and taking nine Vesperax sleeping pills, then asphyxiating on his own vomit. For years, Dannemann publicly claimed that Hendrix was alive when placed in the back of the ambulance; however, her comments about that morning were often contradictory and confused, varying from interview to interview. Police and ambulance reports reveal that not only was Hendrix dead when they arrived on the scene, but he had been dead for some time, the apartment's front door was wide open, and the apartment itself empty. Following a libel case brought in 1996 by Hendrix's long-term British girlfriend Kathy Etchingham, Monika Dannemann allegedly took her own life.

A sad poem written by Hendrix that was found in the apartment has led some to believe that he committed suicide. More speculative is the belief that Hendrix was murdered—forcibly given the sleeping pills and wine, then asphyxiated with a scarf by professionals hired by manager Michael Jeffery. The most accepted and credible theory, however, is that he simply misjudged the potency of the sleeping pills, and asphyxiated in his sleep due to an inability to regain consciousness when he vomited.

Reports that Hendrix's tapes of the concept album Black Gold had been stolen from the London flat are in fact wrong: the tapes were handed to Mitch Mitchell by Jimi at the Isle of Wight Festival three weeks prior to his death. Hendrix's Greenwich Village apartment, however, was indeed plundered by an unknown series of vandals who stole numerous personal items, tapes, and countless pages of lyrics and poems, some of which have resurfaced in the hands of collectors or at auctions.
Widely recognized as one of the most creative and influential musicians of the 20th century, Jimi Hendrix pioneered the explosive possibilities of the electric guitar. Hendrix's innovative style of combining fuzz, feedback and controlled distortion created a new musical form. Because he was unable to read or write music, it is nothing short of remarkable that Jimi Hendrix's meteoric rise in the music took place in just four short years. His musical language continues to influence a host of modern musicians, from George Clinton to Miles Davis, and Steve Vai to Jonny Lang.

Jimi Hendrix, born Johnny Allen Hendrix at 10:15 a.m. on November 27, 1942, at Seattle's King County Hospital, was later renamed James Marshall by his father, James "Al" Hendrix. Young Jimmy (as he was referred to at the time) took an interest in music, drawing influence from virtually every major artist at the time, including B.B. King, Muddy Waters, Howlin' Wolf, Buddy Holly, and Robert Johnson. Entirely self-taught, Jimmy's inability to read music made him concentrate even harder on the music he heard.
For Me I guess he deserves a moment of silence and spend the rest of the day influence by his music.